for your home, business, industrial or commercial property providing solutions for all your building needs.
Experienced Builders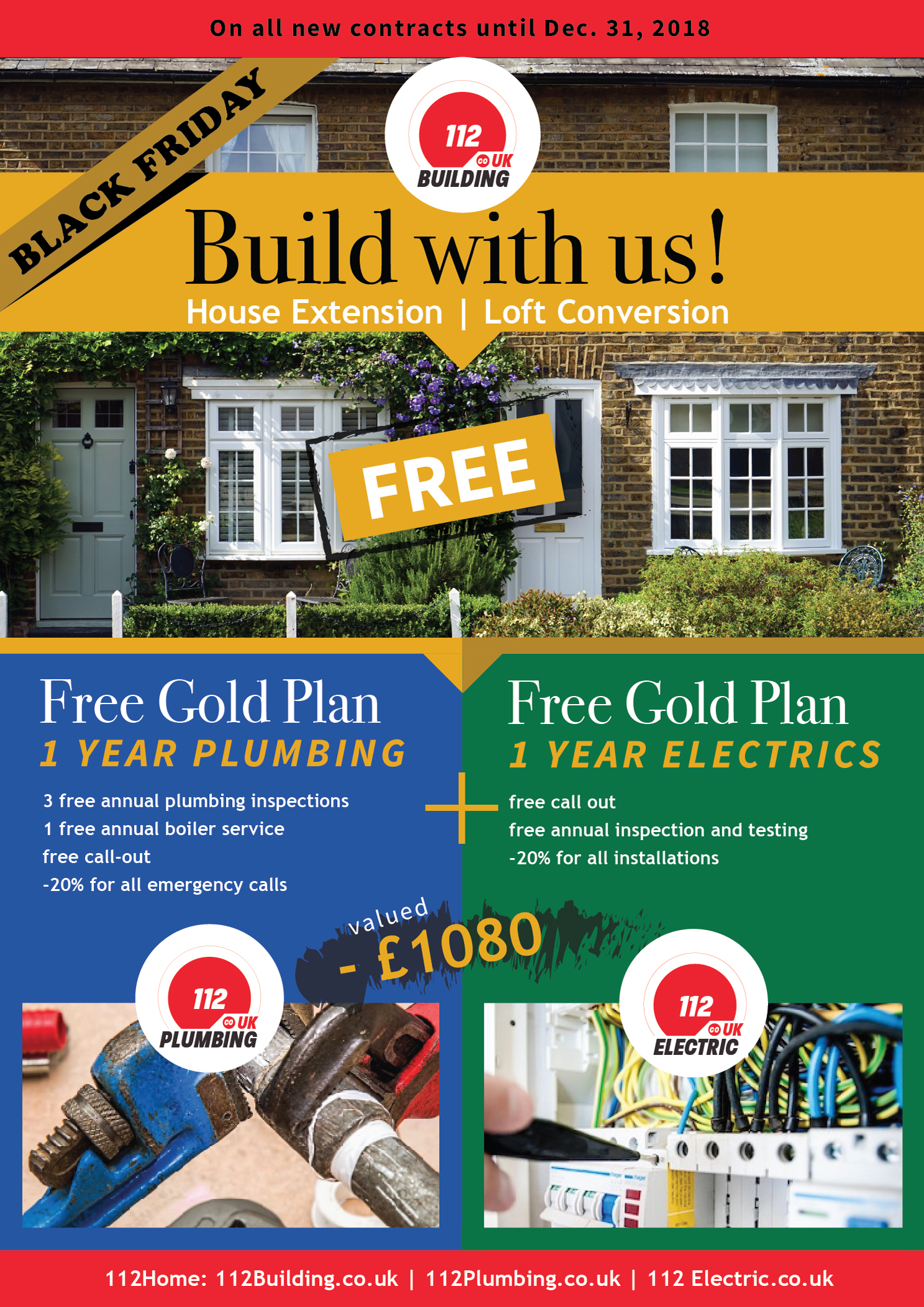 Black Friady 2018 | Terms and Conditions
1. Who qualifies?
All new clients who sign a contract for building a house extension, loft conversion or any other bespoke building services that has a contracted value of minimum £40,000.00
2. What do I get on Black Friday Campaign?
ShQualified clients will receive FREE:
- One Year Gold Plan from 112Plumbing.co.uk and
- One Year Gold Plan from 112Electric.co.uk;
the total value of the Gold Plans that you get free is 1080 pounds.One Year Gold Plan - Plumbing includes:
- 3 free plumbing inspections (booked in advance by plumber)
- 1 free annual boiler service (booked in advance by plumber)
- no call-out fee
- 20% for all emergency calls (subject to availability)
One Year Gold Plan - Plumbing include:
- free call-out
- 1 free annual boiler service (booked in advance by electrician)
- free annual inspection and testing (booked in advance by electrician)
- 20% for all installations (subject to availability)
3. I'm interested! What should I do?
Contact us! Let's talk about your project, we will visit the site, analyse the plans and prepare the quotation. If everything is ok we will sign the contract. Should this contract be signed before December 31, 2018 (does not matter when the actual works will begin), you will receive a written confirmation.
4. Am I qualified?
All qualified customers will receive a written confirmation from 112Building
5. When starts the Gold Plans?
You may choose to start the Gold Plans when we start the construction work on your site or when we complete the work on the site. Both Gold Plans must start at the same time.
6. What if I want to subscribe for Gold Plans for another year?
You can subscribe for the next year at the prices available when you make the purchase; right now the Gold Plan for Plumbing costs 45,-/month and Gold Plan for Electrics costs 45,0/month.
7. I have multiple buildings or I have a larger project - do I get more?
Yes, if your project exceeds £250,000.00 you will get another set of Gold Plans.
You can use them by yourself for a second year, or you can name a different beneficiary (a friend). You get an extra pair of Gold Plans for each £250,000.00 in your building contract.
Other rules:
- You cannot ask to receive any amount of money instead of Gold Plans, not before, during, or after you start the Gold Plans
- These Terms and Conditions adds with General Terms and Conditions of the site.
About 112 Building | Quality, Insurance, Experience
112 Building offers professional building services for domestic and commercial purposes, refurbishment and renovation works.

All projects are developed by experienced professionals or partner building companies that meets our quality standards, with insurance, tools, people and focus to make you happy through the high quality of our work.
Partner companies that will sign the contract on our behalf will present you the insurance, references and examples of work. Several specialised professionals from 112 Building and tools in our property will work on several sites simultaneously to cover specialised jobs in various stages of construction. By using this architecture we are able to build faster then other buildinf companies and offer better services, work with top professionals and offer better prices.

Experienced
Builders
for Construction works, Refurbishment, Renovation, Bathroom and Kitchen Fitting
We can manage projects of all types and make sure that the service we deliver is flexible accommodating to the needs of the customers, always using the best materials enabling us to satisfy even the most demanding customer expectations.
Our dedicated team are fully qualified, with years of experience in their fields and our aim is to give the customer a prompt and quality service at a very competitive price.
112Building's carefully selected building companies have been trading for more than 10 years - and we provide fast, efficient and reliable building, property maintenance and refurbishment solutions.
We pride ourselves in being able to offer the highest standard of finish on all projects we undertake.
Our customers are always at the heart of what we do and so we deliver great results. We measure our success through the fact that most of our work is from repeat clients and referrals.
We promise a competitive quotation with a prompt project turnaround, all within a framework of attention to detail and quality workmanship.
Our team is happy to meet and discuss your needs with no obligations, so please don't hesitate to contact us!